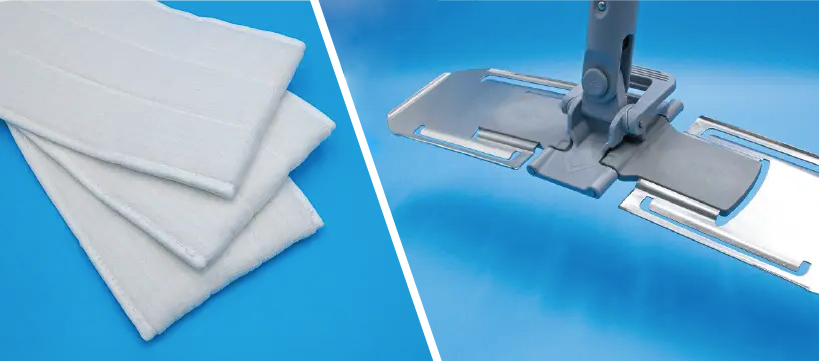 Saturix mops
Pharmaceutical Industry - Clean Room - Mops
---
Complete system for critical cleaning that includes mops, holders, buckets and carts designed to work together or separately in a proper manner. Reduces the risk of contamination and supplies waste and, also increases productivity and protects the hygiene of clean areas and other controlled environments.
The cleaning capacity of the microfiber mops together with the patented hands-free system provides a consistent cleaning and reduces the spread of dirty cleaning solutions and, at the same time, improves productivity.
The frames of Saturix™ mops and their extensible handles are designed and manufactured to make cleaning easier and more effective.
Features
• Innovative design with hands-free attachment system
• Mops:
Pocket-size and flat, microfiber weave of 100 % polyester.
disposables of three types: lightweight, medium-weight and heavy
Mop cleaning coverage: 14m² / 21m² / 28m² for light, medium (robust) or heavy (high resistance), respectively
• Stainless steel cleaning carts of high quality and extreme durability with: hands-free attachment system and precise dosing system and bucket load which allows to embed the mops as desired
Benefits
• The hands-free attachment system enables the mops positioning and discards in a quick, easy and safe manner reducing contamination risk
• Mops eliminate 99.9 % of particles of up to 0.1 microns size 4
• Enables a consistent and even arrangement of the cleaning solutions
• Reduces cleaning products waste and the spread of dirty cleaning solutions
• Improves efficiency and results
Form
MD216 16" Light Mop (40 cm) 5 mops / bag 20 bags / case
MD316 16" Medium Mop (40 cm) 5 mops / bag 20 bags / case
MD416 16" Heavy Mop (40 cm) 5 mops / bag 20 bags / case
Autoclavable plastic pocket flat mop frame
HF116 40 cm x 10 cm 45 kg
Recommended ISO 5 to 8
Stainless Steel Pocket Flat Mopframe
HF216 40 cm x 10 cm 0.45 kg
Recommended ISO 3 to 8
Telescopic aluminium mop handle
HH270 99 cm – 178 cm 0.45 kg
Recommended ISO 3 to 8
HCA01 Plastic bucket, blue
50cm x 17cm x 25cm 1.1kg
Recommended ISO 7 and 8
HCA02 Stainless steel bucket
51cm x 18.5cm x 23.5cm 3.8kg
Recommended ISO 3 to 8
HC202A Autoclavable stainless steel cart with precision dosin